---
A to Z Guide for the Vacation Rental Guest Journey
Posted On Friday, September 23, 2022
---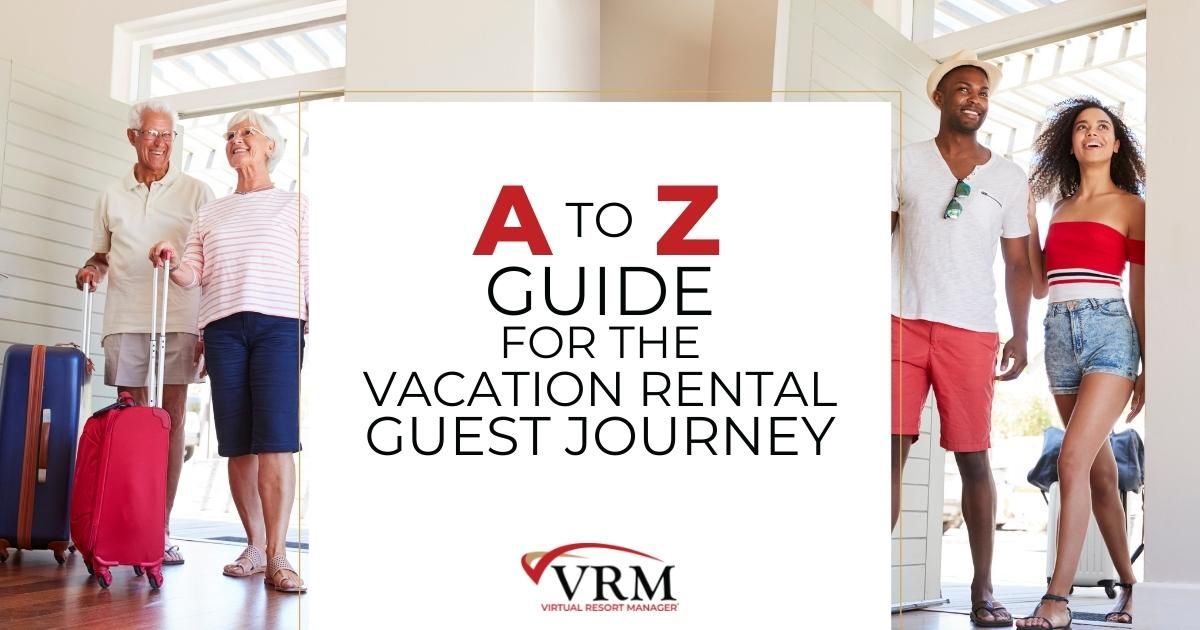 As most in the vacation rental industry already know, the guest's journey starts long before the vacation begins. From researching vacation destinations to reading reviews, your guests must navigate through many obstacles on their way to booking a dream vacation rental (using our amazing vacation rental software).
Read through our A to Z guide for the vacation rental guest journey. This is will cover just a few of the things that renters are looking for and what they are navigating through. Our list is no particular order, and it certainly is not exhaustive. Keep reading to learn more!
A is for Accessibility
Accessibility for those with impairments is essential. Be sure to communicate with potential guests about the accessibility of your website, offices, vacation rentals, local attractions, and more. Those with mobility, visual, hearing, speech, and cognitive impairments will appreciate your effort to be a company who seeks to be inclusive and assessable to everyone. For example, you can create a web group for all handicap-accessible homes in your inventory. You can also create blog posts about handicap assessable shops, restaurants, and attractions. If someone rents a handicap accessible home, be sure to include clear instructions on how to use any accessibility equipment, such as elevators.
B is for Booking with Ease
The guest's booking experience should be smooth and seamless. From easily searching units by dates or unit type, to a secure payment process... the booking experience matters!
C is for Customer Service
This one should speak for itself, but it is often overlooked as a key element in the satisfaction of your guest's experience. What is your company doing to provide A+ customer service to your guests?
D is for Direct Messaging
If you are using chat bots or social media channels, are you guests and potential guests able to direct message you and get a response? Whose responsibility is it in your company to respond to these kinds of messages? When a guest is looking for an answer to a quick question, they will use the communication tools provided to them. Direct messaging is an often overlooked and neglected form of communication.
E is for Emergencies
Will your guests get all the information they need in the event of an emergency? What proactive steps have you taken to ensure a guest can easily access the information they may need should an emergency arise? Does your website give clear details regarding things like travel protection, clear evacuation routes, and the nearest hospital or emergency facility? No one wants to think about an emergency happening during a planned vacation, but it happens. Be sure to build confidence in your guests by providing the info the may need, but you hope they never have to use.
F is for Frequently Asked Questions
Do you have a FAQ page on your website? If not, you should. Not only is this an excellent resource for potential guests, but it is also a great link for reservationists to share with guests who ask questions and to feature on social media. It is also important to update your FAQ page on an ongoing basic. Ask your staff what questions they get asked the most and share those answers on your FAQ page.
G is for Guest Survey
When was the last time you surveyed your guests about their vacation rental experience? Do you ask questions about their experience with the research and booking phases of their journey? Asking your past guests specific questions is the best way to get feedback, make necessary changes or adjustment, and improve experiences for future guests.
H is for Help
Do your guests and potential guests have a clear pathway of what to do or how to contact you in the event they need help? From help with making a payment to not finding an available unit within a desire date range, how does the guest reach out to your company? Remember, they won't know unless you tell them and give clear directions.
I is for Integration Partners
Here at Virtual Resort Manager, we do more than just provide amazing vacation rental software. We are constantly working with third party vendors who provide the services our clients want to see integrated with our software. Many of these integration can improve the experience of your guest (and you). Similarly, you also work with outside vendors and partners to provide the best experience possible.
J is for Join Our Newsletter
Where is your "Join Our Newsletter" opt-in? Most companies have an email or newsletter opt-in on their homepage or as a website pop-up. Where ever you decide to put it, a newsletter opt-in is a great way to collect names and email addresses for marketing purposes.
K is for Keep Guests Informed
From newsletters to scheduled emails using Welcome Home or text messages in Welcome Home Complete, there are a myriad of ways to keep your potential guests, in-house guests, and repeat guest informed. There may be times that you need a banner added to your website for important information. Other times you may want to send a marketing email reminding your guests that it has been a year since their last vacation. The bottom line is that customers feel valued when they are kept informed.
L is for Location, Location, Location
There is a really good reason why people flock to your area to vacation!! Be sure that you are showcasing the beauty and vacation-worthiness of you area... and establishing yourself as the area expert. You can do this through "Area Insights" pages on your website, highlighting nearby attractions in your property descriptions, blog posts, social media post, marketing emails, and more. You will also want to take the time to tell guests why their selected vacation rental is the perfect location for relaxation and leisure.
M is for Marketing
Marketing is your opportunity to tell potential and returning guests what you want them to know about your vacation rentals, your area, your business, your staff, and what sets you apart. It is also the way you stay top of mind to your guests. As you think about your ideal guest, be sure that you are marketing to them!
The VRM Marketing team can help with your marketing!
Contact us to learn more about our Services: Email Marketing, Social Media Marketing, SEO, Blogging, Pay-Per-Click Advertising, and Reputation Management.
N is for NAP Consistency
NAP stands for names, address, phone number. NAP Consistency "refers to the accuracy of a location-based business's Name, Address, and Phone number across all business listings, local directories, social media profiles, and websites. It is widely considered a search ranking factor for local SEO." (callrail.com)
By regularly checking your NAP Consistency, you can be assured that guests aren't receiving conflicting information or given incorrect/outdated information.
O is for Online Presence
How is your online presence? Can your guests find you online with ease? If you have used proper Search Engine Optimization (SEO) strategies, then your potential guest should be able to find you easily.
P is for Payment Processing
Once a guest has made the decision to book a vacation rental through your company, the payment process should be a seamless experience. From deposits to final payment, your guests deserved a headache-free process.
Our preferred payment processing partner is Lynnbrook Group. If you would like more information about Lynnbrook Group and how they can streamline your payment processing, contact our Client Success Manager, Lauren Schreckengost.
Q is for Quick Response Time
How long does someone wait for a reply from you? Whether it is via email, direct messages, or phone calls, there should be a responsible response time from your team. It is a great idea to let your guests know ahead of time as to the expected response time to their inquires. If response times are going to be longer than normal, be upfront about it. Knowing what to expect goes a long way toward client satisfaction.
R is for Reputation Management
THIS IS SUCH AN IMPORTANT ONE!! Your reputation is vital when it comes to guests choosing your vacation rental company over a competitor! What are you doing to protect and promote your online reputation, reviews, and scores?
Your VRM Marketing team has curated several FREE reputation management resources for you. All you have to do is click the button below to receive our "6 Myths About Reputation Management" PDF. Then, in a few days, you will have our "Roadmap to a Great Vacation Rental Management Reputation" PDF in your inbox.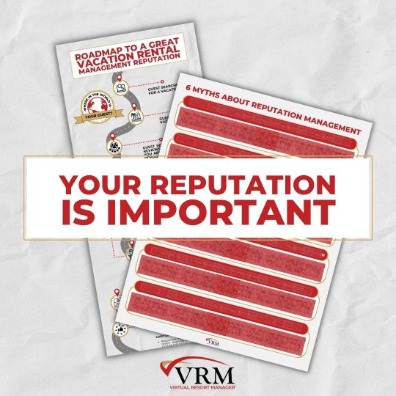 GET Your Free downloads!
This is valuable information that you don't want to miss. Click the button to get started.
S is for Software
Your vacation rental software can make all the difference in your guest's experience! That is why Virtual Resort Manager strives to keep you and your guest in mind with our software updates, enhances features, and new functionality.
T is for Travel Insurance
Your guests need to know the risks that are involved with the investment they make when they book a vacation rental. Be sure to educate your guests on the benefits of travel protection, the risks associated with denying travel coverage, and the importance of being protected. If a guest needs to file a claim, are you confident that your travel insurance company will treat your customers the same way you treat them?
U is for User-Friendly Website
Is your website user friendly? If not, then it should be! Much of your guest's vacation rental journey will happen on your website. A user-friendly website should be easy to navigate, have clear headers and tabs, and contain the information needed in a systematic and well-defined pattern.
V is for Virtual Resort Manager
VRM is more than just your just your vacation rental software choice. We are a family of dedicated industry professional who are passionate about helping your property management business succeed. From software and support, to onboarding and marketing... YOU and your guests are our top priority!
With the industry's best trust accounting and A+ customer service, we aim to provide our clients with an unparalleled experience.
W is for Welcome Home Complete
Are you using Welcome Home Complete? If not, we would HIGHLY recommend that you further investigate its benefits. The option to use text messaging to communicate with your guests from within the VRM system can revolutionize your guests experience.
X is Go the eXTRA Mile
The willingness to go the extra mile for you guests will make a world of difference in their vacation rental journey. Taking the time to listen to your customers needs and the going above and beyond is what will set you apart!
Y is for YES to Repeat Guests
As you already know, guests that return to your company year-after-year are THE BEST! Repeat guests are proof that your guests have been well taken care of and are satisfied customers. Make is easy for guests to say "YES" to their next vacation rental with you by giving them an excellent first experience, and then making it convenient to book another vacation.
Z if for Zealous Team
Your team is in the business of helping people take epic vacations. How awesome is that?! From housekeeping to reservations, your team matters. Some of your team keeps things running behind that scenes while others are the voice of you company. Encouraging kindness, professionalism, fun, and zeal in your team is an essential step toward promoting an excellent guest journey.
We hope that you found our A to Z guide useful in the endeavor to providing your guests with the BEST vacation rental journey in the business.
Comment on this post!