---
All the Reasons Why Your Guests Need to Book Direct and Save
Posted On Saturday, February 3, 2018
---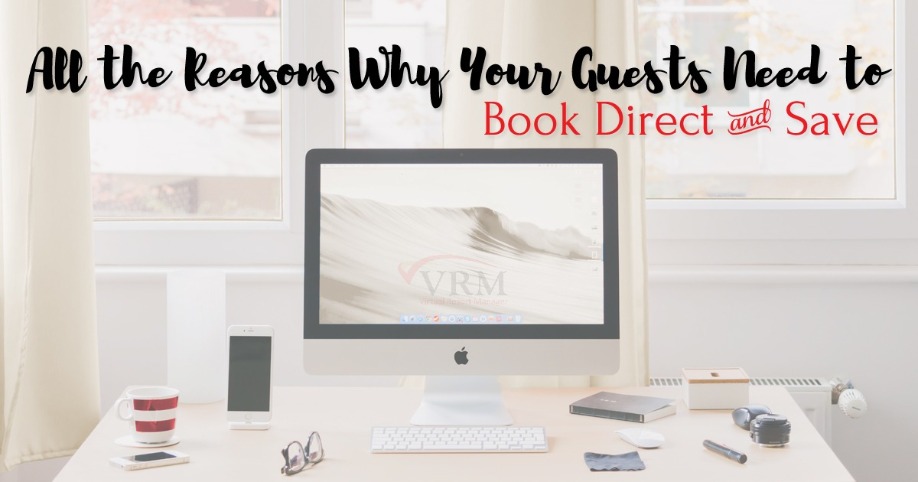 Throughout the last few months, there has been a lot of discussion throughout the vacation rental management industry about OTAs and how they are affecting your business and the guest's experience. At VRM, we aren't just your vacation rental software company, we are part of your team. One of our goals is to help your business be a great success, and that is why we are joining in on the #BookDirect, Guest Education Day.
On February 7th, vacation rental mangers, homeowners and vacation industry leaders unite as we raise a collective voice in educating the public as to why booking direct is a fantastic option for just about everyone. We are joining forces in a one day #BookDirect campaign where we will project a singular message. The mission is to let all travelers know that there are many great advantages to bypassing those third-party channels. We want to encourage the public to book directly with property management companies.
To educate your guests and offer them the best vacation experience possible, we want to encourage you to take a moment and think about all the reasons why your guests need to #BookDirect and save!

The Trouble with OTAs
Online Travel Agencies have a place and a purpose. However, many vacation rental managers are running into ever increasing issues with OTAs. As these companies grow larger and larger, they are able to "corner the market" in ways that most people did not expect. In such cases, locally owned and operated property management companies can't compete. They simply do not have the same kind of budget or reach as large OTAs.
In fact, that last statement is exactly why the idea of integration with OTAs was originally so appealing. For a small fee, your properties could get in front of so many more people than your own advertising budget would allow. However, most of the third-party channels have steadily increased their fees and have taken measures to block the manager/homeowner from having direct access to the guest.
The bottom line is that the changes in the business models to these third-party sites has been detrimental to both guests and the vacation rental provider. Increased booking fees means that your bottom line is affected, along with increased vacation rental costs for the guest. OTAs are currently charging between 3% and 15% for their services. In some cases, these "service" fees are not easily recognizable to a guest who has chosen to book through a third-party.

Great Reasons to Book Direct
There are many great reasons why booking direct is beneficial for both the provider and the guest. When it comes to individual revenue, it is in the best interest of the property to be booked directly through the property manager. You don't have to share part of your profit margin with the OTA. This also means that you don't have to increase your prices to cover the increasing costs associated with third-party booking fees, saving your guests their hard earned vacation money.
Another great reason to encourage your guests to book direct is because they will always have direct access to you. There is no middle man. If a guest has a specific need or wants more detailed information about a property, they will be able to communicate with a reservation specialist who is well acquainted with their destination of choice and who is well-equipped to address their needs. As a property management company, you have the power to offer YOUR guest world-class customer service via YOUR staff and YOUR business.
Perhaps the #1 way that direct booking can affect your business is guest retention. After all, you aren't just looking for one-time guests. You want the ability to not only communicate with arriving guests, but to also market to previous guests in a way that easy and effective. A third-party in this equation can complicate matters. After all, if a guest loved their trip to ABC Beach and decided to book again via the same OTA, there is no guarantee that they will find one of your properties.

What You Can Do to Educate Your Guests
Now the question to ask is, "How do I communicate all the benefits of booking direct to my guests?"

VRMIntel did a fantastic job of outlining several extremely effective steps that you can take to begin the process of educating your guest about booking direct, all while joining in on the #BookDirect quest.
Here are some messaging ideas straight from VRMintel:
Book Direct and Save: Did you know that Airbnb, VRBO, HomeAway and TripAdvisor add hundreds of dollars of fees to your booking total?
When you book direct, you have direct contact with the manager or owner: When booking a vacation rental, peace of mind is important. Want to know if there is a grill, a kayak, 24/7 service, a grocery store close by? When you book direct, you can find out many of these important questions and more before you commit to booking.
The best price isn't on the OTAs: Unlike hotels, OTAs and aggregators (like Airbnb, Expedia, Booking.com, VRBO.com, HomeAway, TripAdvisor, and FlipKey) don't have the best price for travelers. In fact, you can save hundreds by booking direct and booking local.
Many of the best vacation rentals aren't event listed on the major sites: Because of the cost of using the big sites, the best vacation homes with the highest demand cannot be found on the big websites. Along North Carolina's beaches, alone, only 30 percent of the homes for rent can be found on the big websites. By limiting your search to the aggregating websites, you might be missing out on the best vacation home for your family or group.
Mangers and owners have intimate knowledge about the destination: They can direct you the best rental for your needs and send you to the best activities, restaurants, and area service providers.
If you have special needs, a manager or homeowner can help: Looking for help with your family's special needs or help with pets? A manager or owner can work with you directly to help with any of your individual needs and give you these assurances before you commit to a booking.
During non-peak travel times, managers and owners have special offers available: From events and activities to special rates to onsite services, with direct communication with managers and owners, you get insider knowledge and the best offers.
Here at Virtual Resort Manager, we have had the pleasure of crafting blogs and email campaigns for several of our marketing clients. If you need any help navigating the marketing waters with this or any other marketing needs, be sure to give the us a call or email us at [email protected]. Our vacation rental software clients have exclusive access to our top-notch marketing services.

How to Get Involved with Guest Education Day, aka #BookDirect
Now that you are armed with a blog's worth of information and first-hand experience as a property manager, you are ready to put your weight behind the #BookDirect movement.
Here are several ways that you can get involved:
Use #BookDirect: Ask everyone one your staff to use #BookDirect through all your social media channels on February 7th. If you have an external marketing team, be sure to loop them in on the conversation! Our collective social media efforts with #BookDirect will help to get the word out to potential guests around the world.
Set up an Email Campaign: Email marketing may perhaps be the best way for you to communicate and educate your previous and potential guests about booking direct. This is a great time to offer a discount for returning guests and to let them know how much you appreciate their business.
The VRM staff is dedicated to providing you with more ways to make your business a success, besides providing the best vacation rental software in the industry. The conversation about booking direct and third-party integration is something that we will continue to engage in. If you would like to stay in the conversation also, be sure to register for upcoming webinars from our "Tea with Brittany Lea" series and check back for new blog posts. You will be glad you did!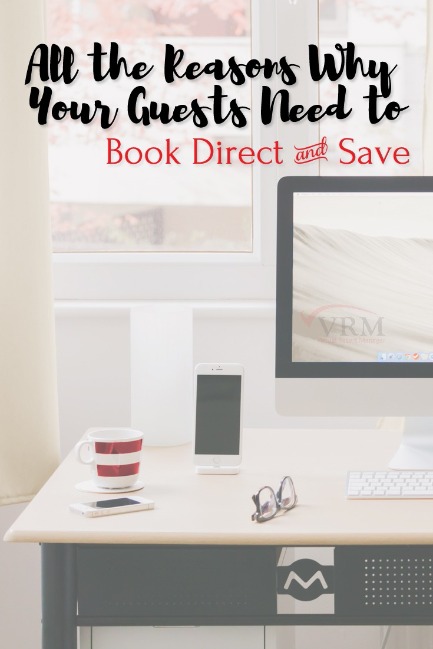 If you liked this post, be sure to save it for later!
Do you have any questions about booking direct, VRM Software or VRM Marketing? We would love to hear from you.
Comment on this post!